New Baby Quotes
Funny or inspirational...
New baby quotes can either be inspirational or funny. 
Humorous and funny newborn quotes make us smile and laugh. This page lists lots of funny baby sayings.
Inspirational baby quotes give us words of wisdom and are often printed as a means of inspiration. If you are looking for inspirational quotes for babies, follow the link at the bottom of this page. 
Use these funny newborn baby quotes for your baby congratulations card. They make great messages and you can use them together with some personal sentences for the new family.
Sometimes citing somebody else's (famous) words or also writing down a poem are a cute thing to include in your baby wishes card. Meaning, if you cannot think of something to write in your own words it is perfectly okay to 'copy' somebody else!
Here are some humorous new baby sayings to use in your baby congratulation cards or baby shower cards. A parent might also like to write them down as a baby announcement message, in a photo album or in a scrapbook for baby. And they make great nursery wall art, too. 
Funny New Baby Quotes:
A perfect example of minority rule is a baby in the house.  (Milwaukee Journal)
A child enters your home and for the next twenty years makes so much noise you can hardly stand it. The child departs, leaving the house so silent you think you are going mad. (John Andrew Holmes)
Insomnia: A contagious disease often transmitted from babies to parents.
(Shannon Fife)
A father is someone who carries pictures where his money used to be. (unknown)
The art of being a parent is to sleep when baby is not looking. (unknown)
Families with babies and families without babies are sorry for each other.
(Ed Howe)
You can learn many things from children. How much patience you have, for instance.
(Franklin P. Jones)
When your first baby drops her pacifier, you sterilize it. When your second baby drops her pacifier, you tell the dog: 'Fetch!'.  (Bruce Lansky)
Before I got married I had six theories about raising children. Now, I have six children and no theories. (John Wilmot)  
The only things kids wear out faster than their shoes are their parents. (John J. Plomp)
24/7. Once you sign on to be a mother, that's the only shift they offer! (Jodi Picoult)
The hardest part of raising a child is having to stick to all these rules yourself! (unknown)
Children nowadays are tyrants. They contradict their parents, gobble their food, and tyrannise their teachers (Sokrates) ... but just a little toothless smile and mummy and daddy are happy!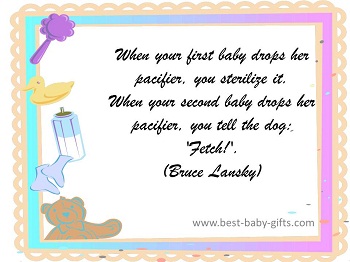 More Funny New Baby Quotes:
Babies are always more trouble than you thought - and more wonderful.
(Charles Osgood)
People who say, they sleep like a baby, usually don't have one.  (Leo Burke)
Becoming a father is easy enough, but being one can be very rough.  (Wilhelm Busch)
Having a baby is like taking your lower lip and forcing it over your head. (Carol Burnett)
A conscience is like a baby. It has to go to sleep before you can. (unknown)
There's this girl who stole my heart... She calls me Daddy! (unknown)

Life doesn't get more real than having a newborn at home. (Eric Church)
My mother had a great deal of trouble with me. But I think she enjoyed it. (Mark Twain)
Parenting without a sense of humor is like being an accountant who sucks at math. (unknown)
Your home has just been enlarged... by 2 feet. (unknown)
Good moms have sticky floors, messy kitchens, laundry piles, dirty ovens and happy kids. (unknown)
My fingers may be small, but I've got daddy (mom, my parents) wrapped around them. (unknown)
There is only one pretty child in the world - and every mother has it! (Chinese proverb)
Although there are many trial marriages there is no such thing as a trial child. (Gail Sheehy)
For a little sister or brother:
In the cookies of life, sisters / brothers are the chocolate chips. (unknown)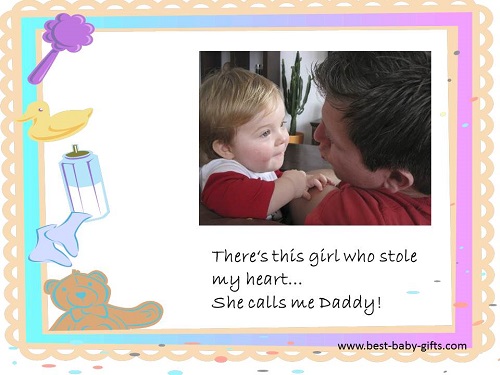 Funny New Baby Quotes And Sayings For Twins:
It's double the giggles and double the grins, and double the trouble, if you're blessed with twins. (unkown)  
There are two things in life for which we are never truly prepared: twins.
(Josh Billings)
Twins: born with a best friend! (unknown)
Not double trouble, but twice blessed! (unknown) 
A good neighbor will babysit. A great neighbor will babysit twins! (unknown) 
Twins: two unique souls united by birth. (unknown)  
Baby twins: born together, grown together - friends forever! (unknown)  
You used to have time. Now you have twins! (unknown)
On your twin birth announcement: We used to have time. Now we have twins!
Inspirational newborn quotes are great for baby's nursery and make a cute wall art decoration: find inspirational new baby quotes here.

Find even more funny and other baby quotes on my Pinterest page!
Browse for new baby poems and poems for twin babies.
Return from New Baby Quotes to Best Baby Gifts Homepage.
---
Enjoy this? Don't miss out - sign up for my free newsletter and get access to exclusive articles and resources. 
---