Free Baby Gifts - Lend A Hand!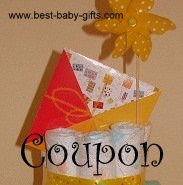 Are you tight on money and need some ideas for free baby gifts or very cheap (but still nice!) baby gifts?

'Best gift ever received' - statement of many new moms!
The ideas presented here will either cost you no money at all or they are absolutely low budget and cost just a few dollars.
Most of these ideas will 'cost' your time instead of real money. But, they probably are great fun for you so your time won't really count. And they are great gifts since they take off work from the new mom and/or dad! In the end the least expensive gifts often are the most practical and appreciated ones!

Give the new mummy or the new parents a gift certificate for your 'services' and they will be pleased about your help.

Free for you, since it costs you not a penny, and free for the new parents, as you give them some free time to relax which is so valuable if you have a newborn baby... - only parents will know how valuable some spare time is during 'these days'. 


'Priceless gift' - statement of many new moms!
Don't feel ashamed to give a low budget or free baby gift! The first few weeks or even months after baby's birth really can be exhausting and the new parents will be happy about each additional helping hand! And since they know you they will feel more than ok to leave baby with you - rather than with a paid babysitter. 
Free Baby Gift Ideas

Babysitting Coupon
Once the baby is a few months old the new parents might like to go out in peace and quiet. By then, they probably miss an uninterrupted romantic evening with dinner or to watch a movie without being disturbed by a crying baby. That's when your babysitting coupon comes in handy! The new parents can go out without to worry since they know baby is in safe hands with you.

For a nice coupon either buy a greeting card and use it as your gift certificate or download and print this baby coupon template for free (note: 'Gutschein' is the German word for coupon, if you don't like this on your printout just cut off that bit on the side): free printable coupon template - babysitting. 

Add something like 'Babysitting Coupon - good for 5 evenings of babysitting on me. Date and time according to prior agreement'. Put the coupon in an envelope and decorate with a ribbon and big bow.

A babysitting coupon is a great gift, even if it is a free baby gift! I wish, somebody would have given such a babysitting gift certificate to me! And every other mommy you ask will agree with me. All new mommies and families will be delighted about such a thoughtful gift and such valuable help.

For your sister, sister-in-law and BFF you can do the babysitting just for her, during the day while daddy is at work - meaning she can go on a beauty treatment, for a manicure and pedicure or to the hairdresser while you look after the little one.

If mummy wants the baby close by you can also accompany her and go for a walk with the newborn while the mother enjoys her spa treatment. Here's a gift certificate to download for that purpose (note: 'Gutschein' is the German word for coupon, if you don't like this on your printout just cut that bit on the side off): free coupon template - time-out for the new mom. 

Of course you can also give a babysitting coupon while mummy goes on a shopping spree, either for herself or for the baby... Or she might even just like to have time for a nap while baby is all yours!

Make some fancy new parents gift vouchers, these are really cute and give you some great ideas: 

Household Chores Coupon / Gardening Voucher
Maybe you don't feel comfortable to babysit? Then why not help out in the household instead? There's so much to do and so little time with a newborn.

Let the parents bond with baby while you prepare dinner, wash the dishes, clean the kitchen and bathroom, do the laundry, do their grocery shopping, cut the lawn, do some unweeding...

In general, there are no limits when it comes to houskeeping and gardening and offering your help with any of it is a great free baby gift indeed!

If you prefer a more general design for your coupon use the following template (note: 'Gutschein' is the German word for coupon, if you don't like this on your printout just cut that bit on the side off): free voucher template - tulips.

More Free Baby Gifts
Homemade Dinner Vouchers
This idea is not a totally free baby gift idea but it won't cost you much extra time and it'll only be a few dollars. The thought is to make dinner for the new parents so they do not have to shop and cook but still can enjoy a warm, home-cooked meal. So, to save time, whenever you make a meal for yourself or your own family, just buy and cook a larger portion and freeze it for the new parents and any siblings. You can do this just once or several times, just as you like.

If you live in the near neighborhood of the new family, you do not even have to freeze the meal but you can serve it right away: 'Enjoy your meal'!  
To provide a 'dinner service' over a longer period, team up with more friends of the new family who all volunteer to make dinner for the new family after baby's birth. Depending on the number of 'dinner providers' involved, you can plan to have (hot) meals dropped off either nightly or every few days for the first couple of weeks postpartum.



Coupon / Voucher Booklet
How about making a coupon booklet of various vouchers of the above - for babysitting, household, pre-cooked dinner and gardening? You can find a very pretty free download for that at kodak.com or buy one at the foto link above. The new parents definitely will be delighted about that much 'unexpected' help!



By the way, a babysitting coupon is also a nice idea to add to a baby gift basket. 
---
Want to pimp up your free baby gift respectively your babysitting coupon with a small homemade diaper gift?


Make some diaper babies and wrap them - together with your certificate - in clear wrapping foil. Diaper babies are extremely cute, inexpensive and easy to make - here is how! 


---

Best Baby Gift Ever! 
Let me, as a mother of 3 kids, again reassure you that free baby gifts in the form of a coupon really are a great present! Even if this gift does not really cost you something it is simply a priceless gift for the new parents.

Return from Free Baby Gifts to Best Baby Gifts Homepage.
---
Enjoy this? Don't miss out - sign up for my free newsletter and get access to exclusive articles and resources. 
---